Ride C2C #4 - Day 23 Williamsburg-Yorktown-Willamsburg - The Atlantic!
Date: 7/15/23
Day: 23
Route: Williamsburg - Yorktown - Williamsburg
Miles: 33.5
Total Miles: 928.7
MyZone MEPs: 325
Today is the day that we reach the Atlantic coast!
It's been a long journey…
But today's ride is a short one.
Sleep in a bit and then head in for breakfast at 7 AM. It's a full buffet that was included with our room.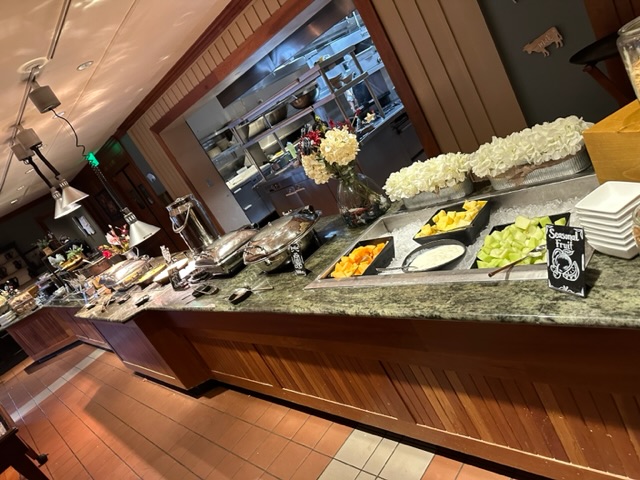 Doug has an excellent egg/hash brown casserole and lots of grapefruit juice. I enjoy scrambled eggs, potatoes, and a small pastry, after all this is our final push to the coast!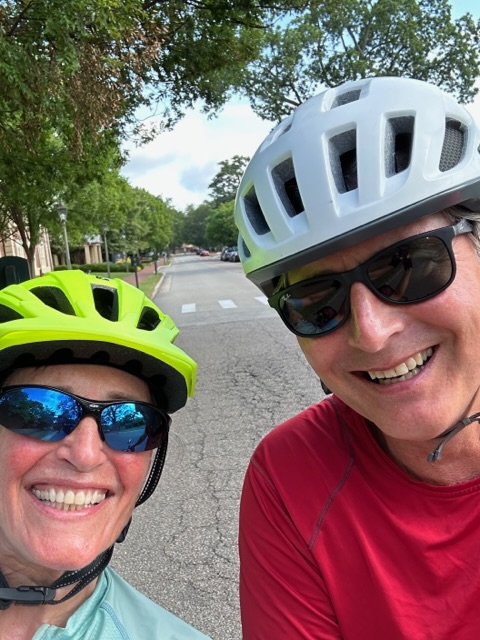 The skies have broken clouds and it is very muggy ( my camera lens is even foggy) but in the 70s for temperature.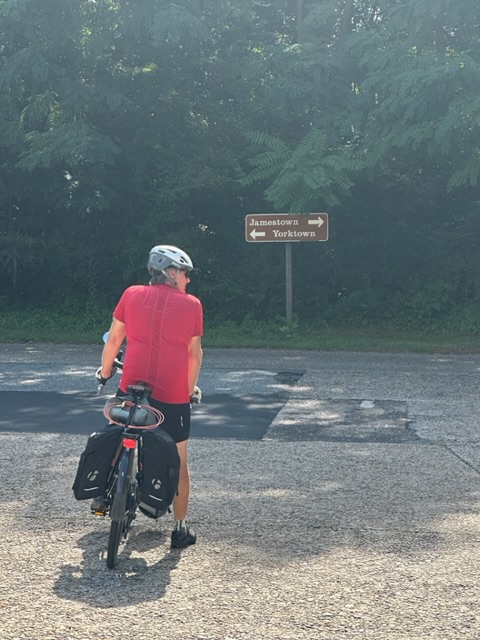 We find our way onto the colonial Parkway after we avoid the tunnel and take surface streets through Williamsburg. This is a wide, unmarked road with enough room for cars to pass easily. The road surface is a rough aggregate - but we'll take that with very few cars and limited access any day.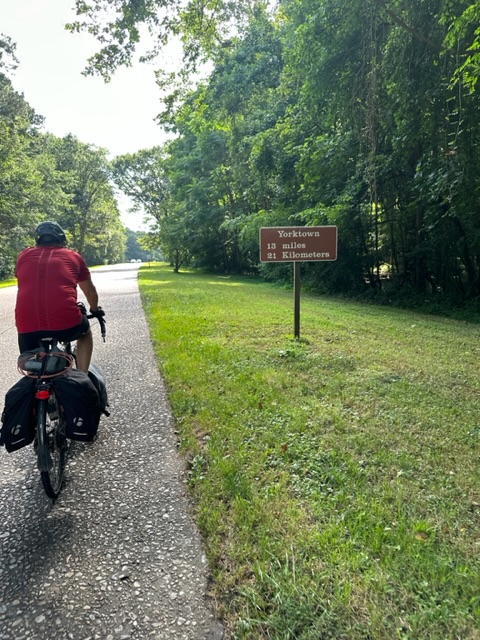 It's an easy cruise on the parkway.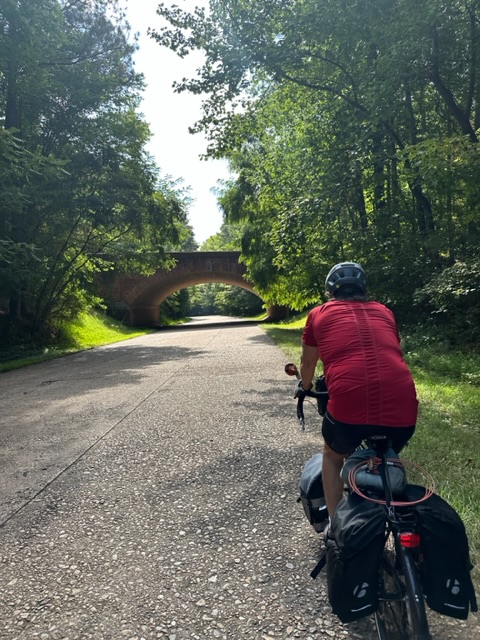 The sun is out and it's getting warmer about 83°. We cruise into Yorktown stopping first at the visitor center. The park ranger gives us a book to sign as a cross country bicycle finisher. :-)
Great museum, and we're back on our bikes to the Victory Monument. The money was erected for the victory of the battle of Yorktown, but we think it's really for us and finishing our bike Journey across the country.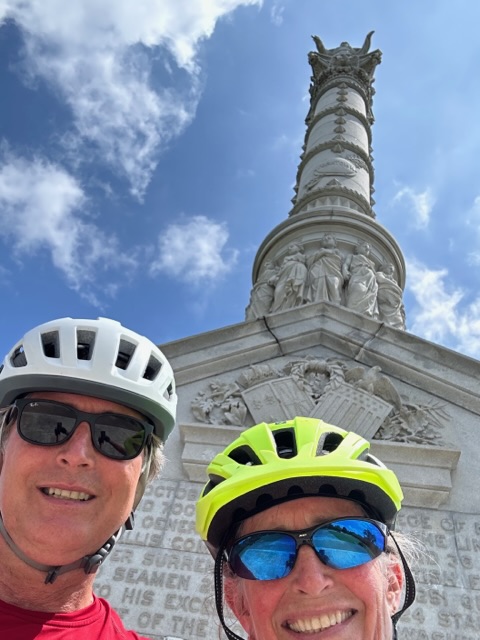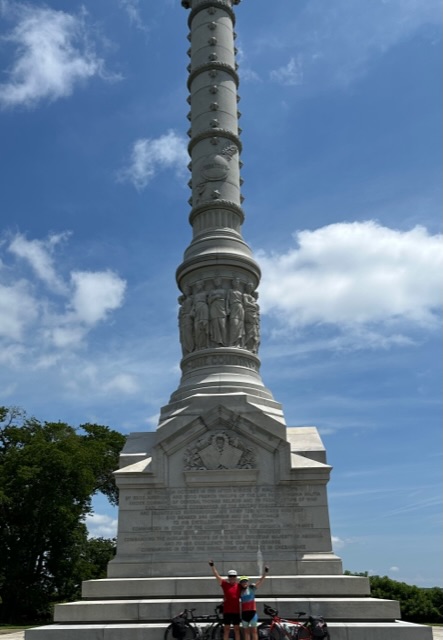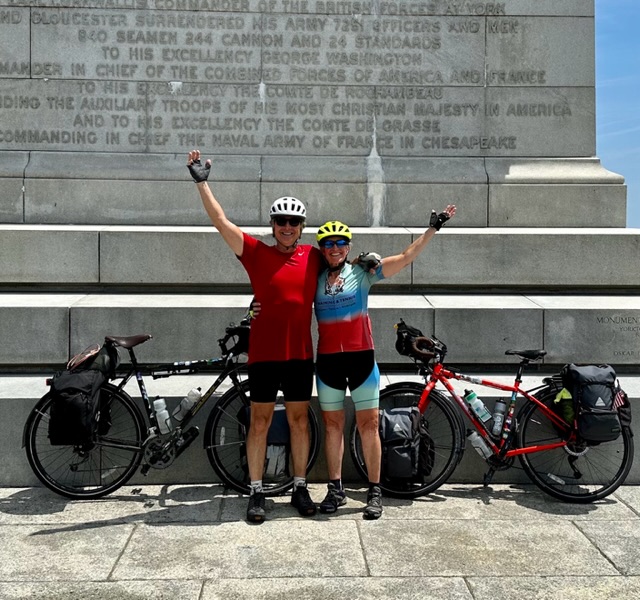 But wait, we're not quite done yet! We ride it down to the York river/Chesapeake Bay and find offense sandy beach, where we finally dip our tires in the Atlantic. HURRAH!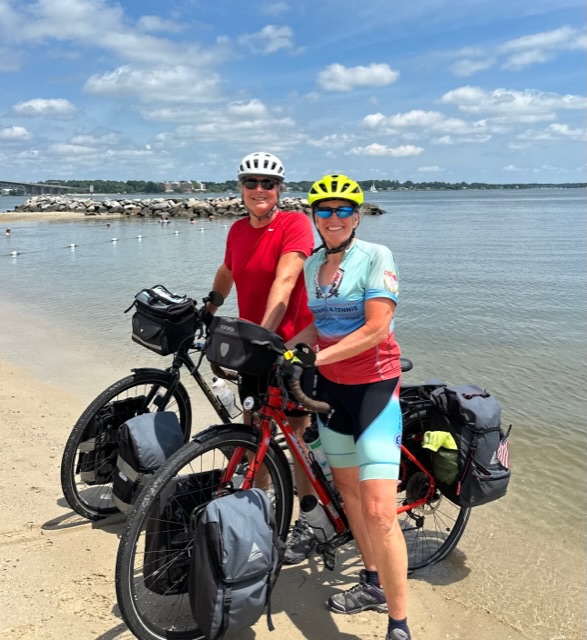 We had a teenage girl take our pictures and when I asked her to take one of us kissing, she lets out an "ahhhh" like "how cute, old people kissing"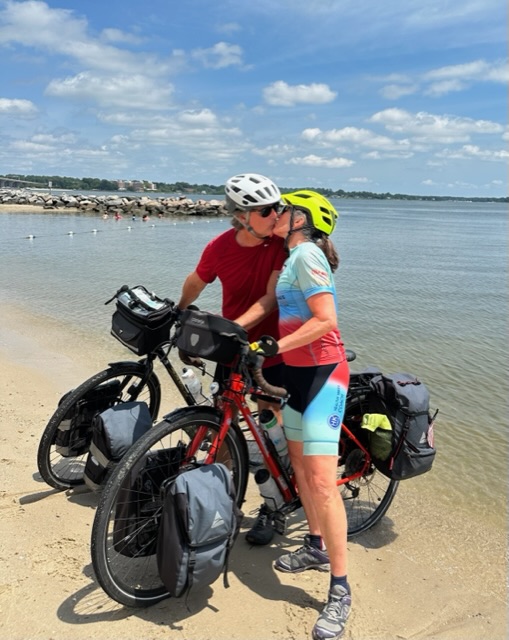 We go a couple of blocks and have a celebratory lunch at the Yorktown Pub - an Ahi sandwich that we split - we still have to ride back to Williamsburg. You can't eat that much when you lots of miles to go.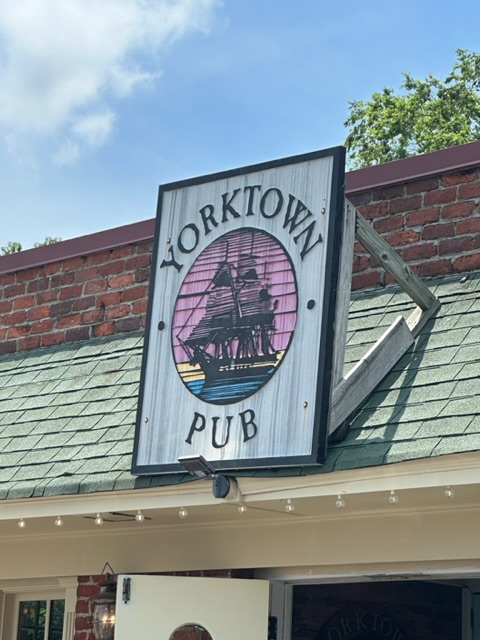 We make a short ride to the American Revolution museum.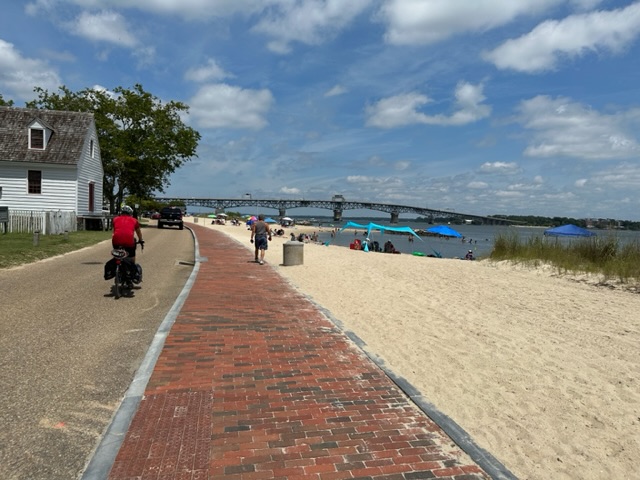 Outside is the tent encampment to replicate where the rebels slept. Also the artillery area where they shot off a cannon (I'm pretty sure that was in honor of completing our ride across America :-) (see the video)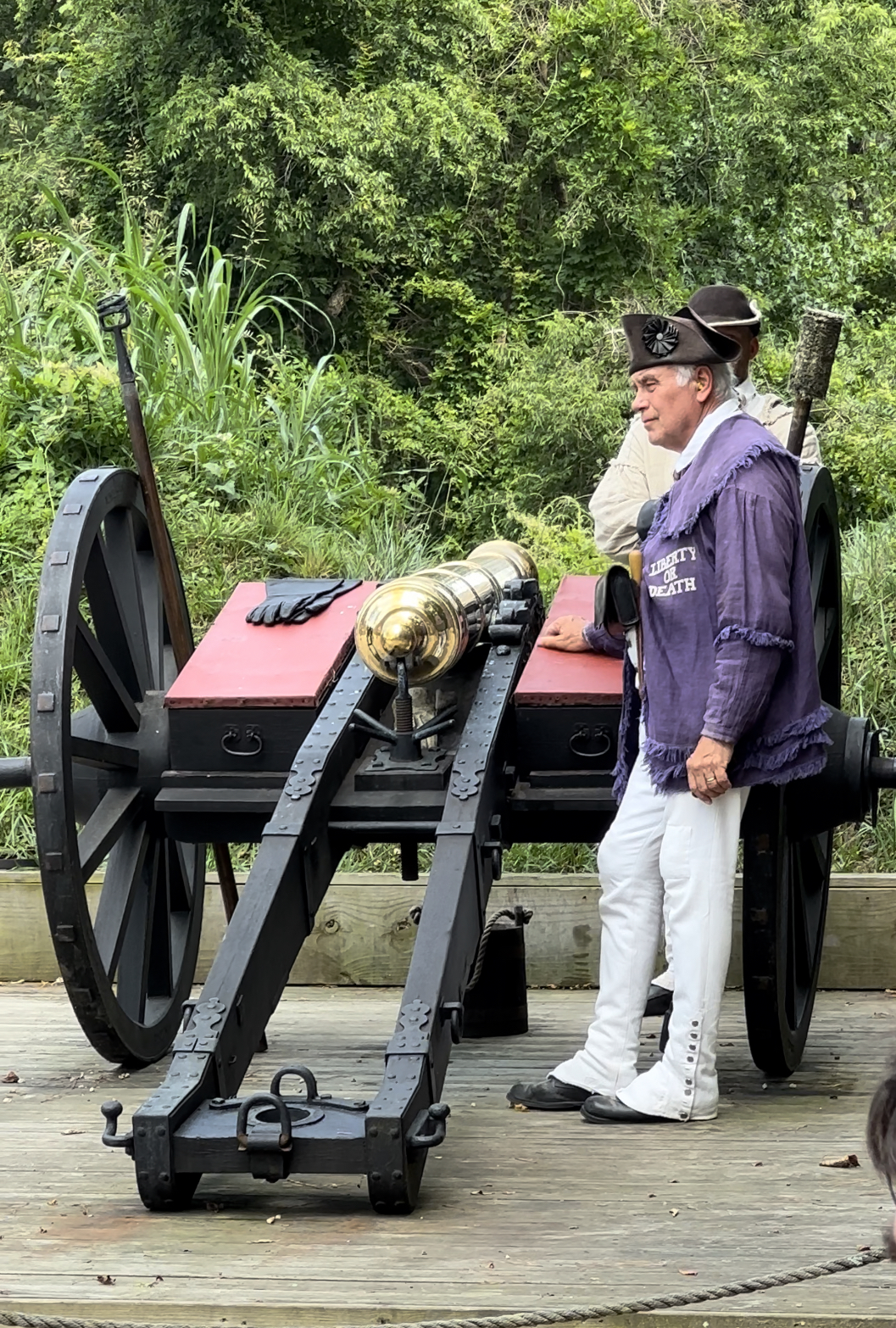 And then a working farm with food made from recipes of the day 200 years ago.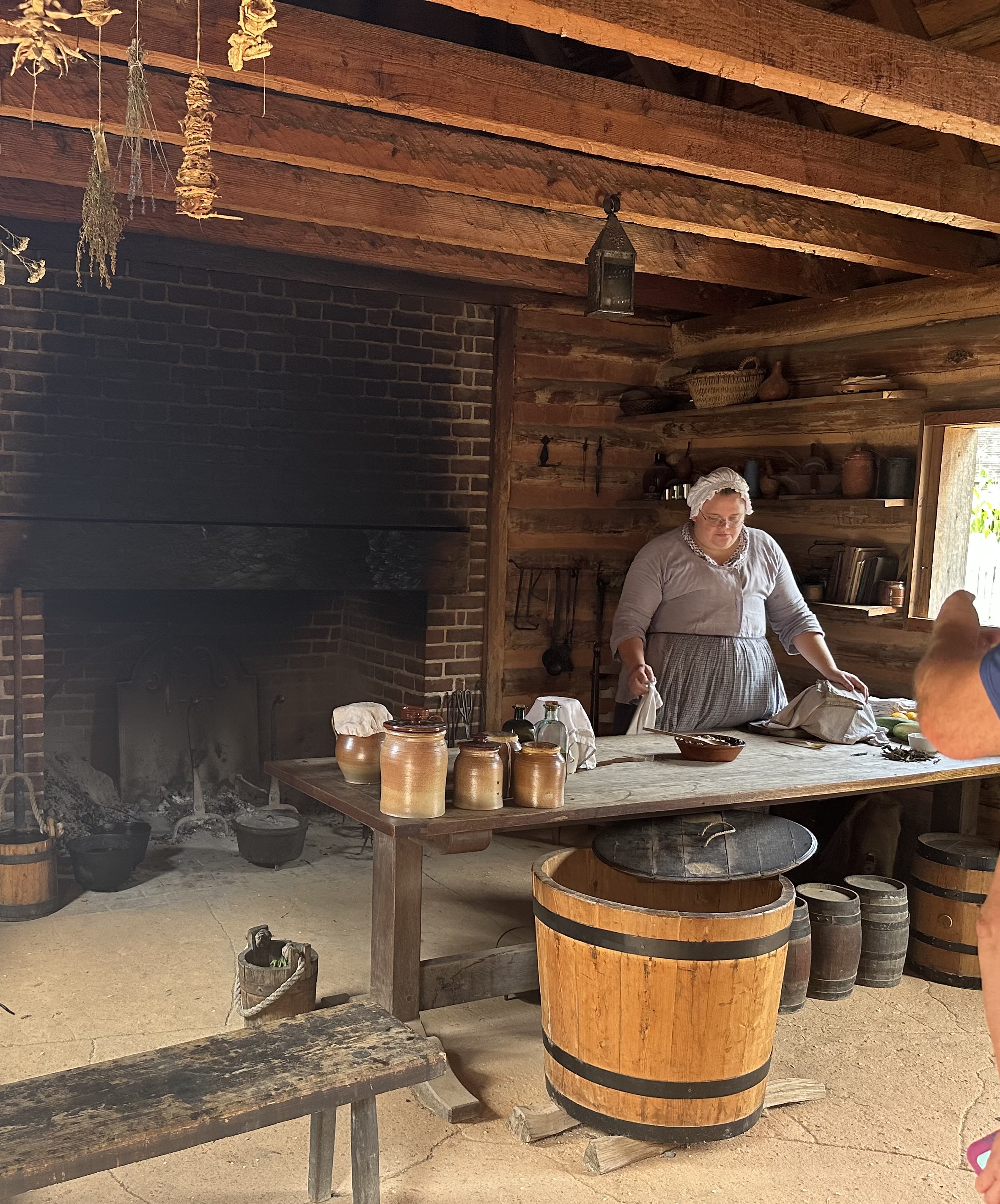 The museum had a special exhibit based on a connection of the Stewart house in England and the seeds of rebellion. So much information!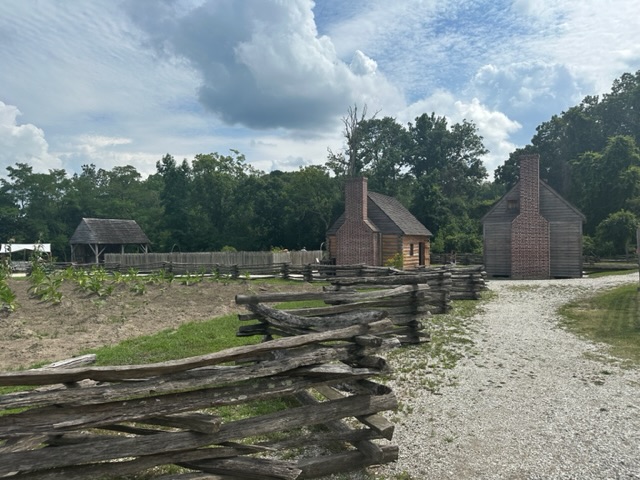 As we get outside for our return ride to Williamsburg, receive the dark clouds overhead looming ominously.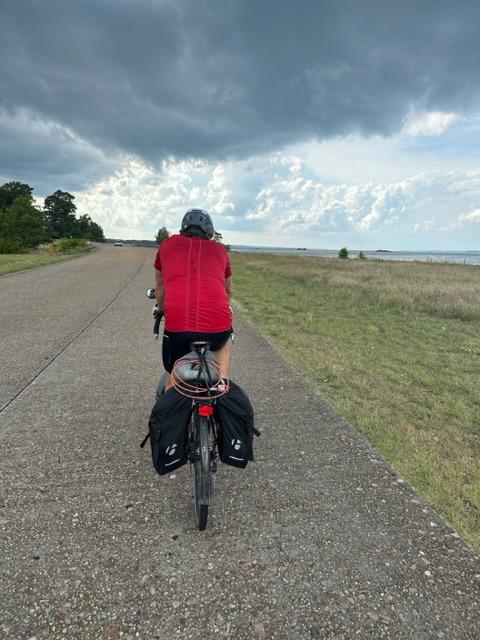 We get back on the parkway and we've got a big tail wind as a storm is blowing in and out about halfway, the rain hits along with thunder and wind. It is so rainy that I can't even take a picture because my phone and my hands are too wet. We just chug through it and it's actually most much better than the hot sun! We are absolutely soaked in this next picture....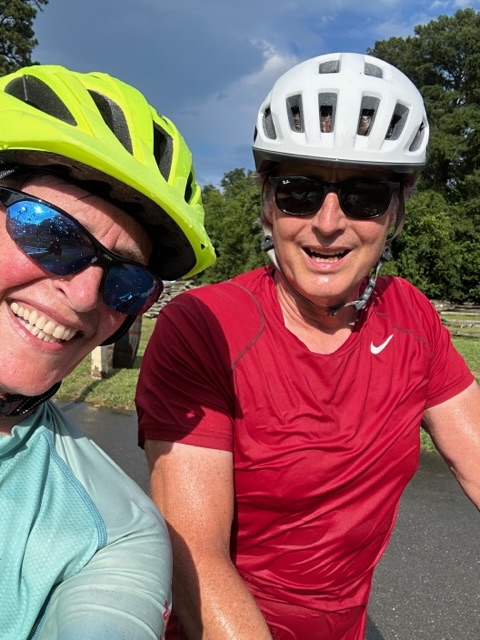 The rain stops about 2 miles from the end, the sun comes out, And now it's like riding a bike through a sauna.

We get back to our room and with our bike clothes soaking and the rest of our clothes feel "goggy" (kind of damp, kind of stinky), we get an Uber to a laundromat to really wash and dry everything. This is the un-glorious and absolutely necessary part of a bicycle trip - even when it is on your "glory day"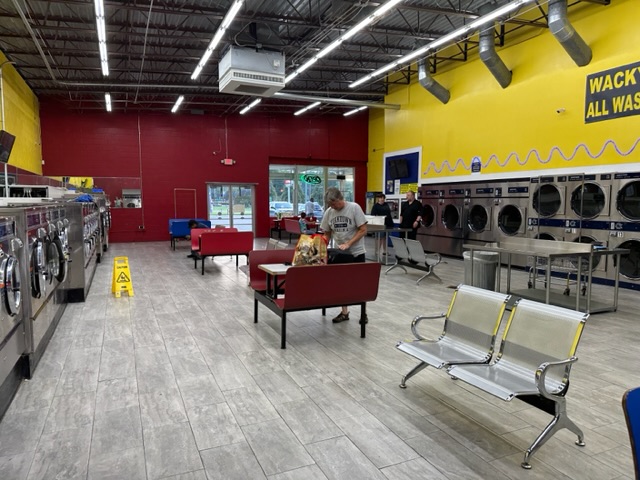 By the time we get back to our room, it's about 8pm, we are starving and in no mood to find a special place to celebrate... so we just go to the hotel's restaurant "Sweet Tea & Barley" for dinner and celebratory drinks. Mint julep's are my new favorite cocktail.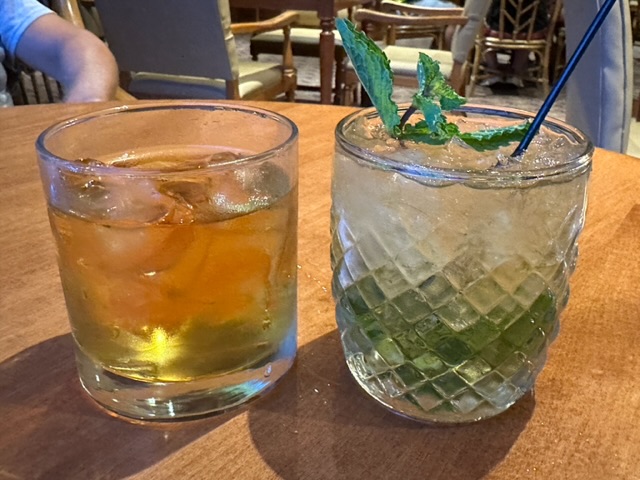 We made it! Now to bed.
We have a tourist day in Williamsburg tomorrow, and then our final "ride" day, back to Richmond the following day.… So we're not quite done yet.
~Friends~
If you are glad you are not riding your bike in pouring rain and a thunderstorm, please donate a little (or a lot!) to help us to raise $10,000 for these three charities: