Ride C2C #4 - Day 20: Charlottesville to Mineral, Virginia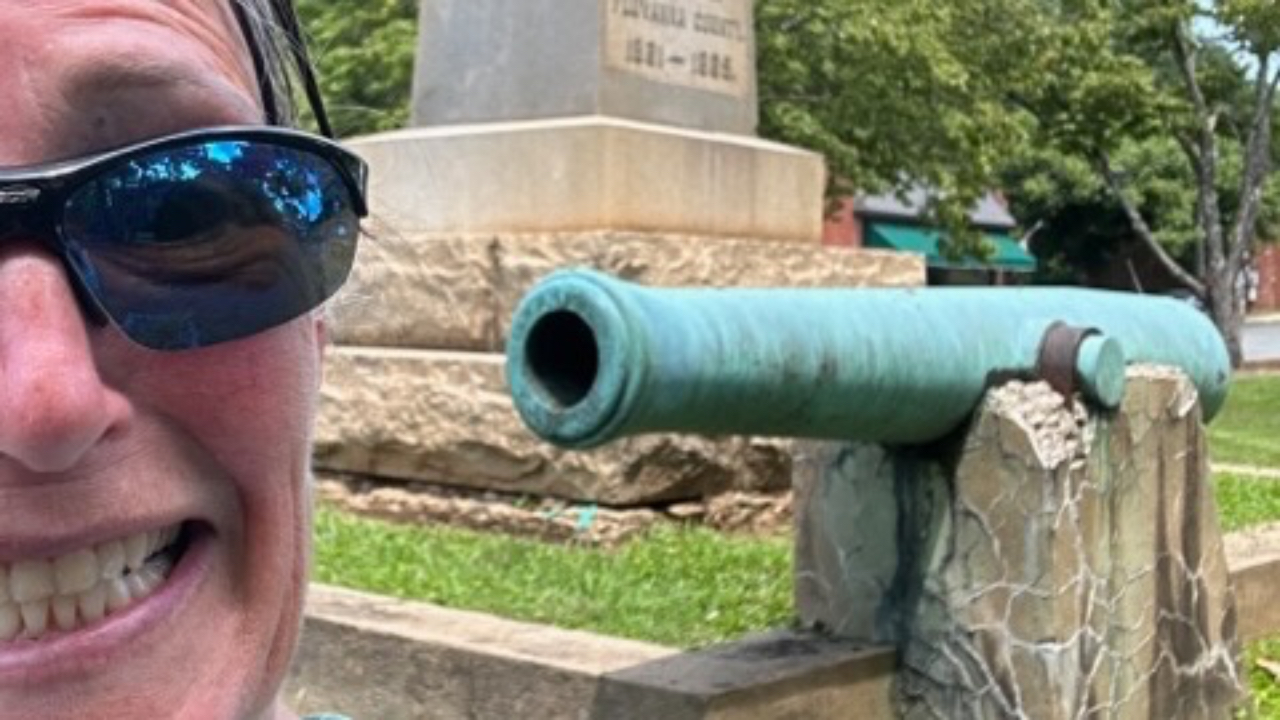 Day 20 Date: 7/12/23
Day: 20
Route: Charlottesville to Mineral, Virginia
Miles: 57.9 with 2,334 elevation gain
Total Miles: 770.51
MEPs: 805
Weather: The sun was HOT (no cloud cover) and temps in 90's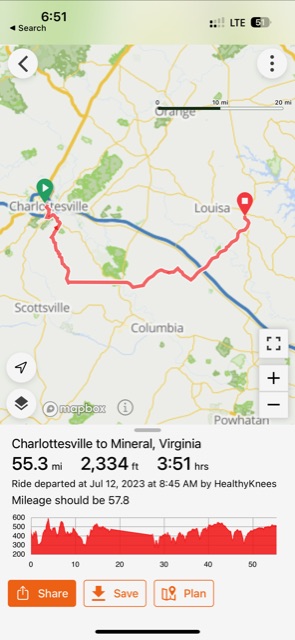 Note- again my gps missed some our ride and we actually rode 57.9 miles. I have a second odometer on my bike!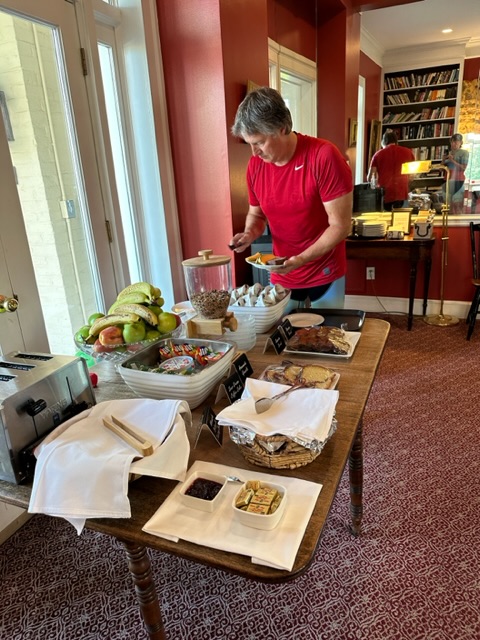 Up at 6:50 AM, shower, pack, bikes, loaded by 7:20 with breakfast served at 7:30. We eat and digest and chat with Charlie from the B&B and hit the road at 8:30.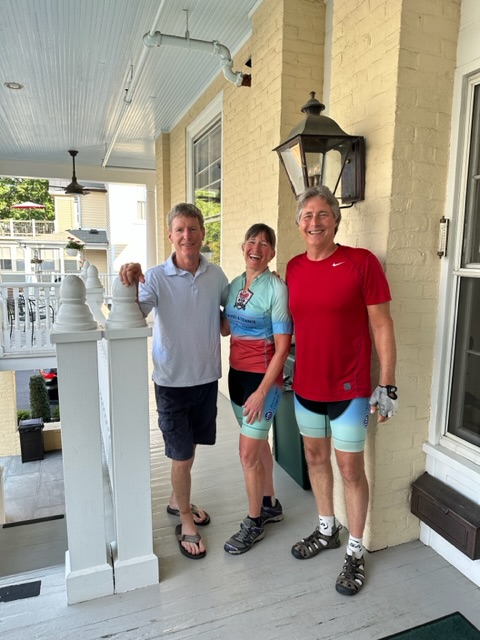 We leave under clear blue sky's and it's going to be hot.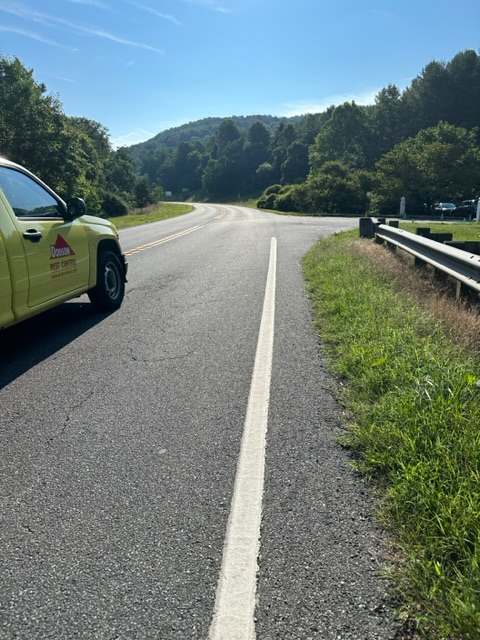 Pretty easy scoot out of town and turn off Jefferson highway, that same nasty, long, busy zero Shoulder.

First, stop President, John Monroe's house; a quick, half mile jaunt up a hill to see beautiful grounds and lovely house.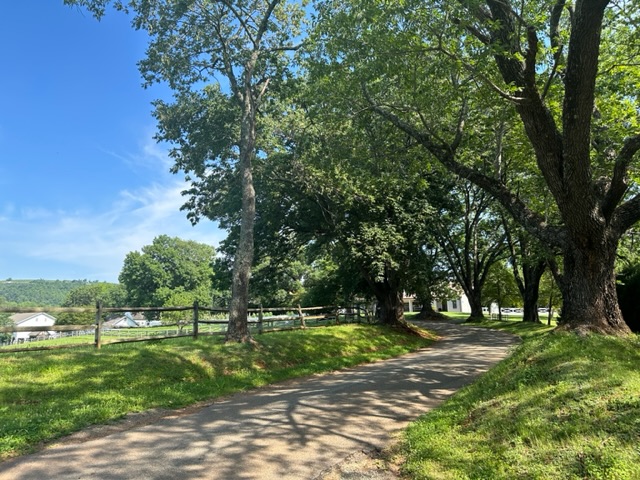 The hunting motif was block printed on linen wallpaper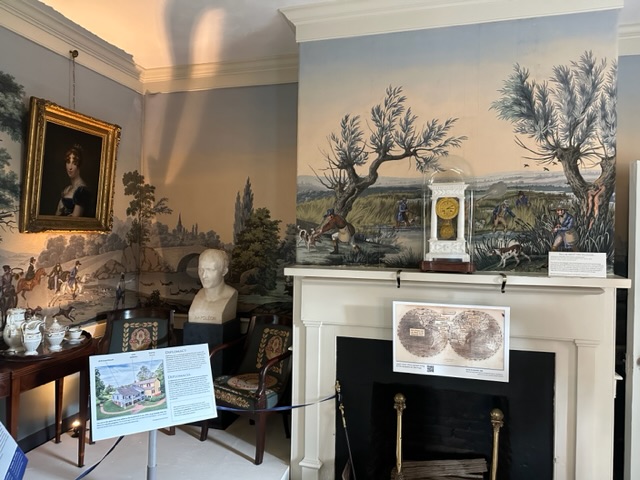 The written materials had a great explanation and good info about Monroe: he negotiated the Louisiana purchase; he negotiated and closed the purchase of Florida from Spain in 1819; and then he became president.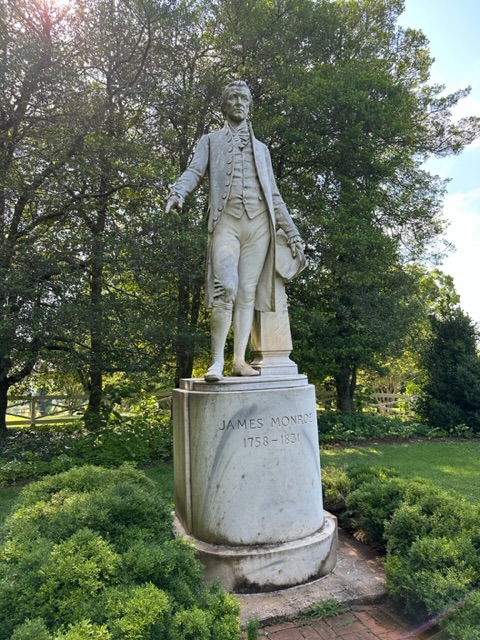 I particularly liked the presidential china - they used to be able to take it with them. His china has 20 stars for the 20 states that were in the union when he took office.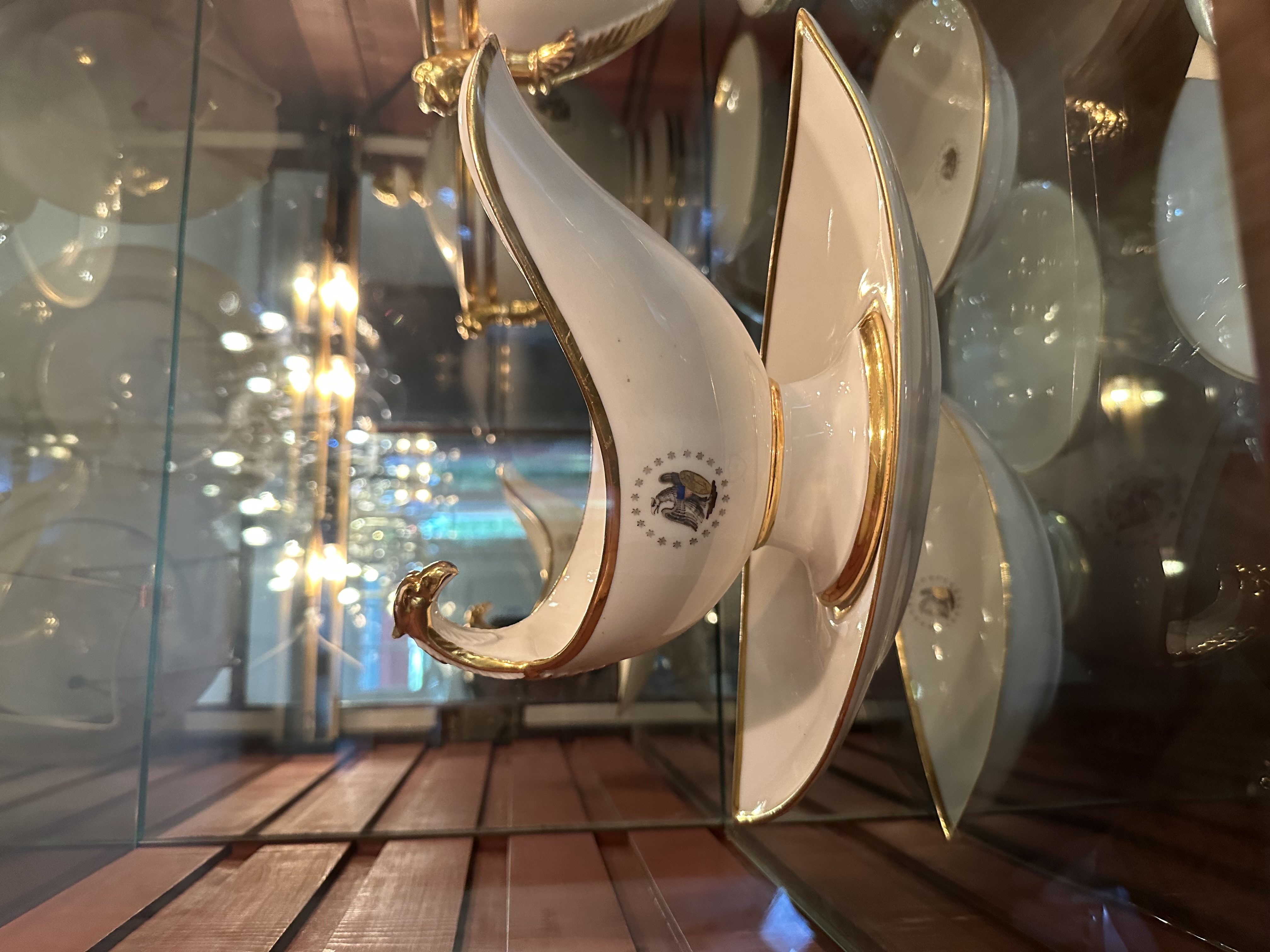 Back on, now 10:15 already and it's getting warm. These are great roads mostly up and down and curvy into Palmyra.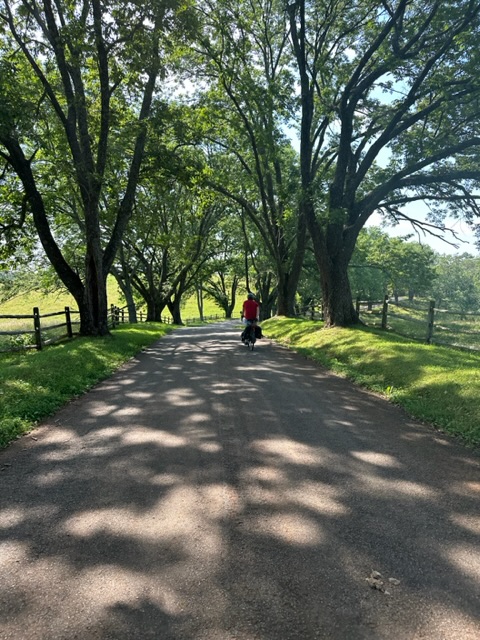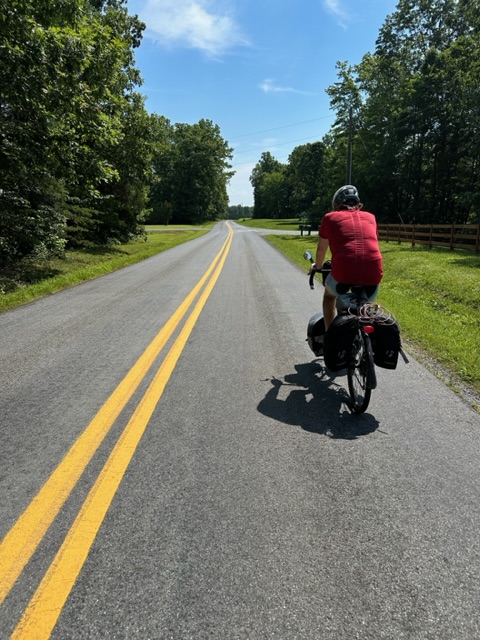 There's a busy road going into town as we climb the hill, we get drinks at a convenience store and then go across the street to the Civil War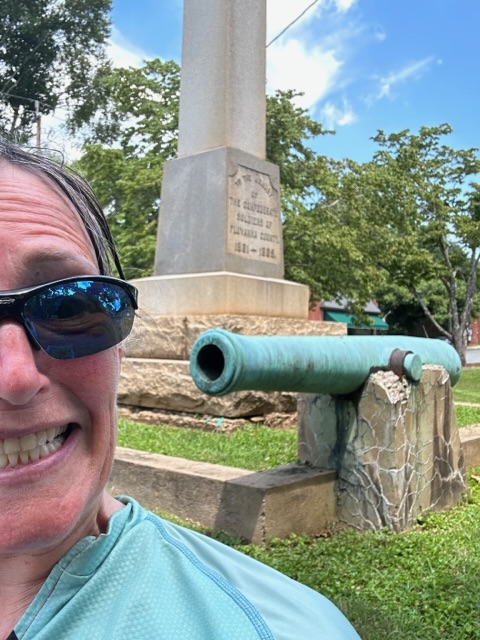 park for sandwiches.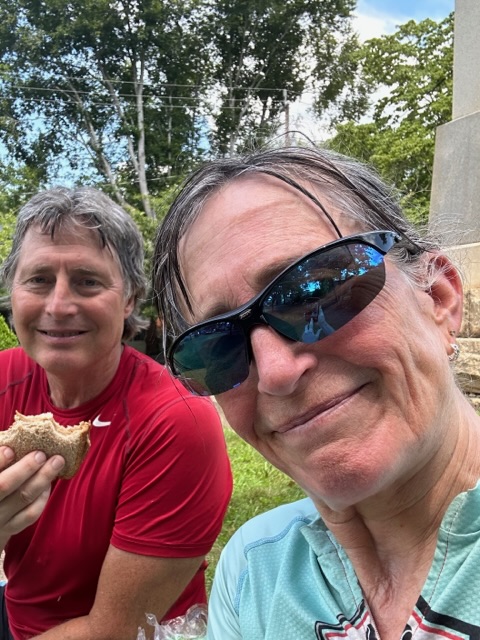 It's right next to the old stone prison from 1825.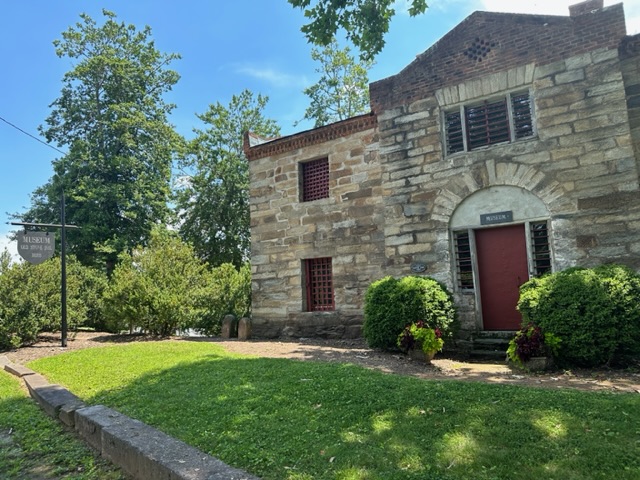 Back on a cruise for miles as it's getting really hot. So we stop at 12 miles at what's marked as "Kents Store" (a town?) on our map.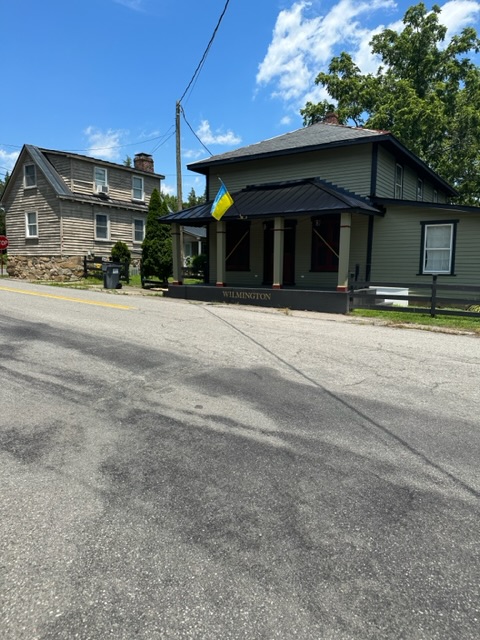 No, there's no store, but we did sit at the volunteer fire department facility. We were hoping to find a water spigot <there were none> as we are low on water.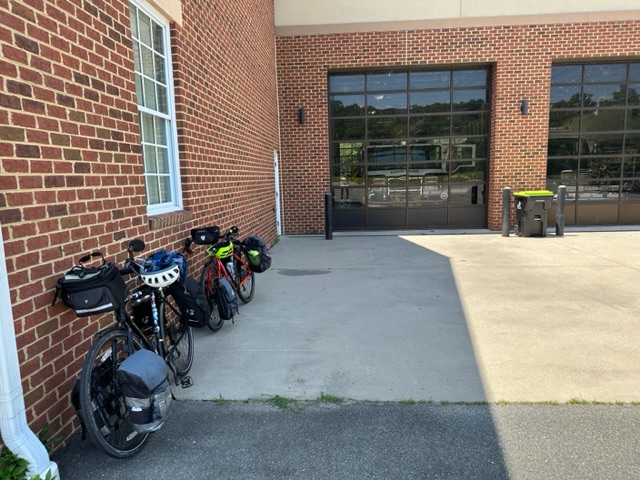 We have a snack and a gatorade, and we see a biker go by. We get back on our bikes, and catch up.

Stefano Pellegrini is from Italy, and he's part of the Transamerica race (started June 4 in Astoria, OR) He's been on the road since then and is riding a really stiff tri-bike.

He has very little gear but a cool one thing that sticks out from his handlebars with a remote camera they can shoot 360°.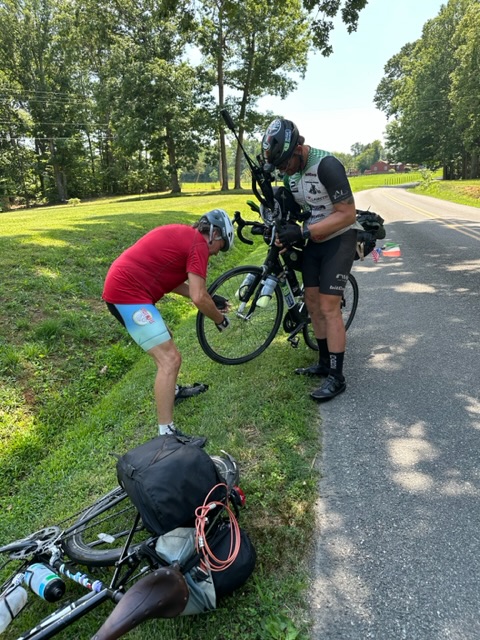 His front wheel was a bit out of round and since he has zero clear for this front brakes, it's really starting to rot. I check all his spokes and they're all pretty close so there's nothing I can do to fix it.

We ride together for a while, he's very cheerful and excited to finish. But he's got stronger legs so soon pedals away.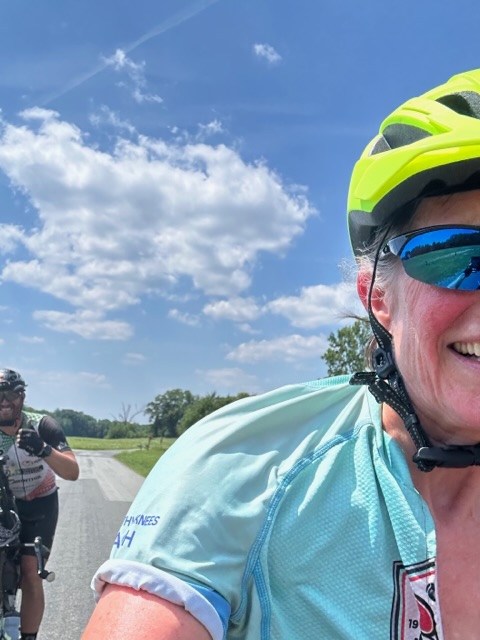 Now it's very hot with very few clouds so the shade is our friend. More curvy cruising roads.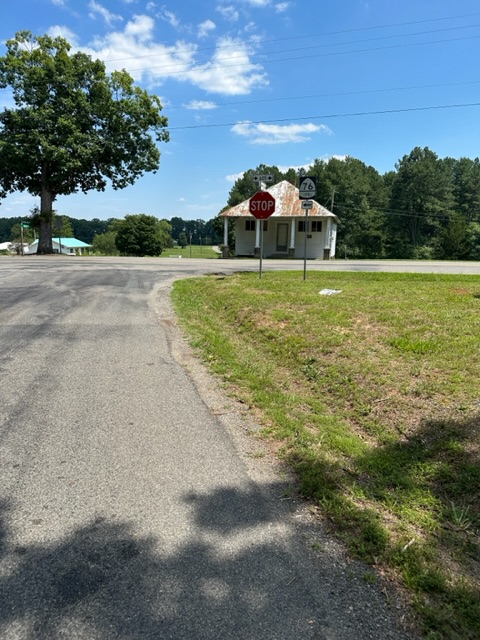 We stopped at about 45 miles for a bar and gatorade. Both of us are getting a bit tired from the heat, and Doug is down to a half a bottle of water. After snacking, we get going again in a few miles later we spot a church with the spigot.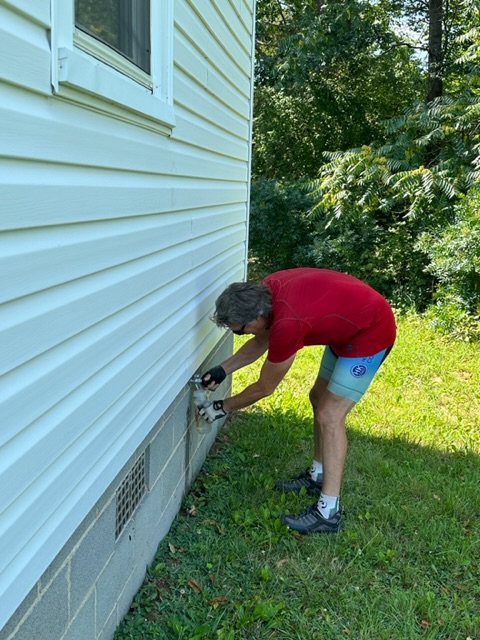 Yes – – we fill the bottles and Doug drank a whole bottle just standing there.
We ride some more over wonderful roads, and stop just outside mineral for a cold drink. And there is our Italian friend Stefano. We chat for a bit more, he's eaten a bunch of food and he's off for many more miles. Doug gets us each a cold lemonade and we putt into the town of Mineral.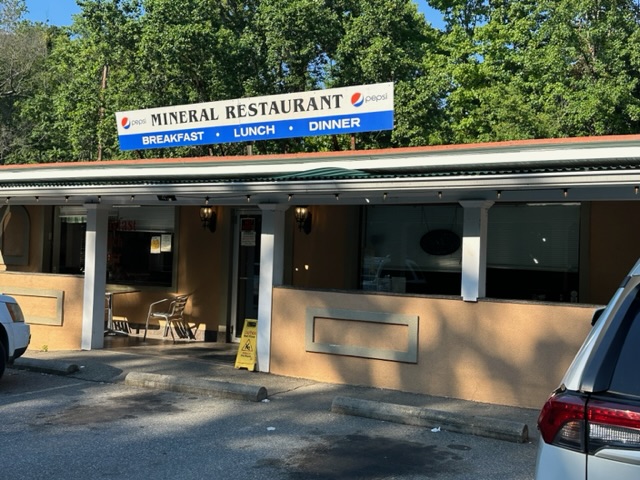 This is another one road town, food store, lawnmower shop, the dollar store, and a few other stores and such. We ride to town to the Mineral Restaurant: it has a limited menu, mostly Italian food, cash, only, and the waitress has been doing this Doug gig for decades. It's always "sweetie, Han, you betcha."
Doug & I really have a lot of MEPS today, his heart is much more flexible after rest day so you really need to eat lots as do I. And we don't have much of an option to have a second meal later since it's already 6 o'clock. I have a pulled pork barbecue plate and Doug has chicken Parmesan. Actually the food is pretty good.
But when Doug asked if he could have a side salad, the waitress stares me down and with the stone solid face she says "we don't have any salad here".
Then when I asked about gluten-free options, she just stares at me with no answer and I'm sure she was thinking to her self "not here snowflake". Well it's a hard time eating all the food because I've got so much fluid in my belly, and has been such a hot long day ... but we end up eating it all.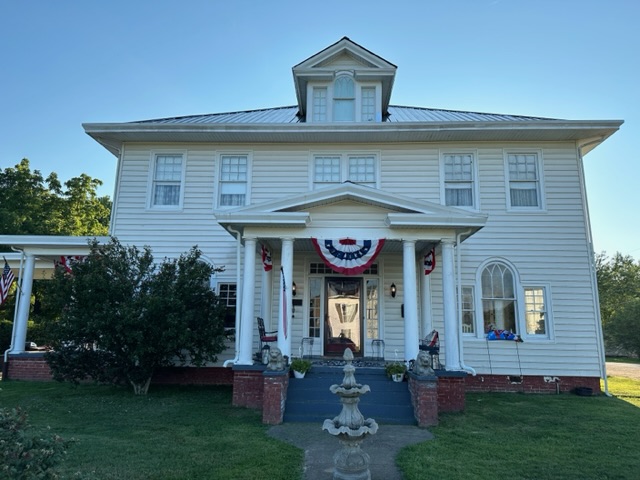 We go back through town to the B&B, a beautiful house from 1916 that is wonderfully redone. And we have the place to ourselves - the owner texted us the entry code.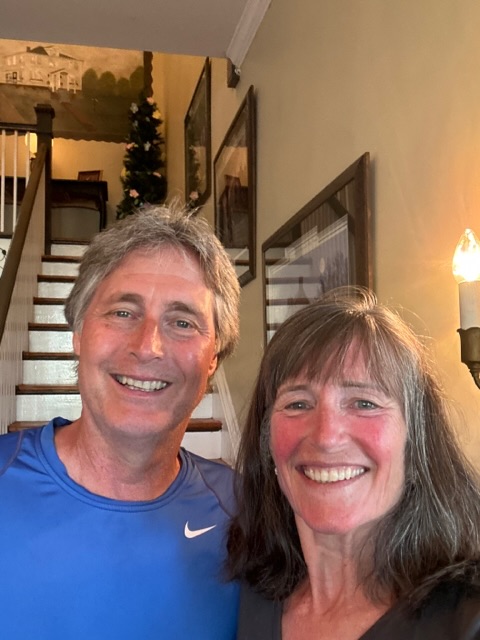 here are a couple of pictures of the rooms in the house- all remodeled since it was purchased in 2018 when it had 20 cats and hoarders' delights.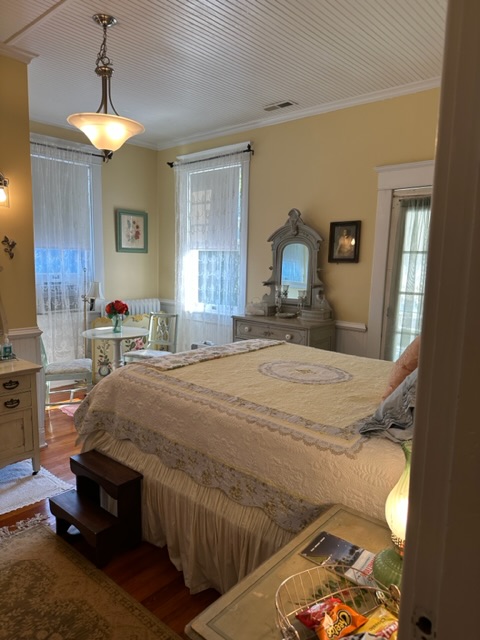 We unload, shower, do laundry, hang it outside, and then plopped down in front of the TV. It's been a long hot day, at 6:30 PM, and we sit for a minute watching Amadeus.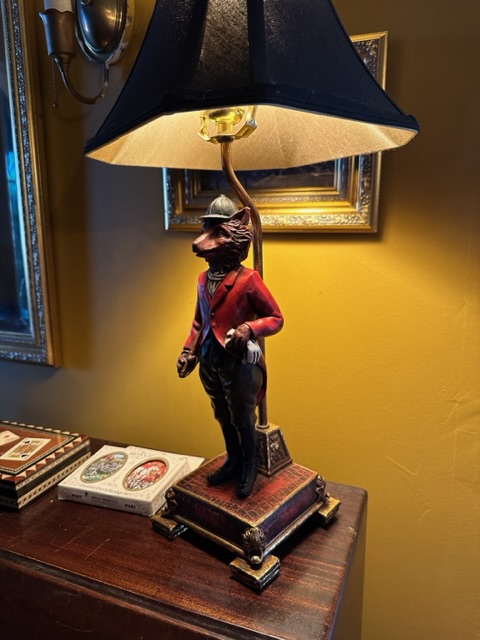 Love this lamp ;-)
Doug rallied to go to the store to pick up supplies and he tells me that he's surprised there are almost no fresh fruit or vegetables in the entire store.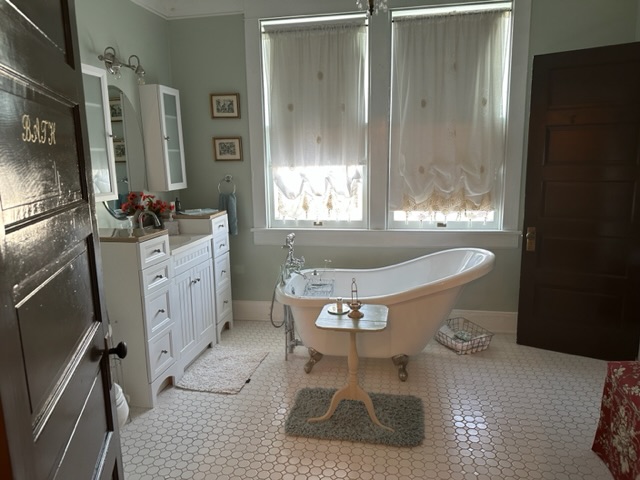 Back at the B&B, relax, write, and have a snack before we go to bed. I talks for quite awhile with the B&B owner about the origins of the house, the restoration, and a fun story about the owners own "surprise" re-wedding with her husband of 40 years.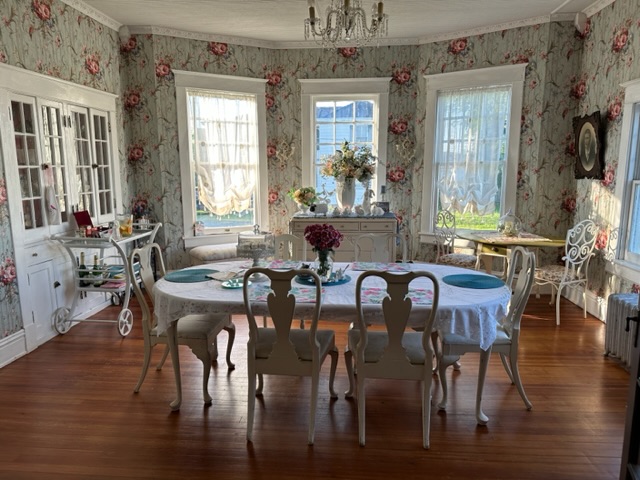 Goodnight!
If you like this travel journal, please help us to raise $10,000 for these three charities: