C2C Leg#3 Days "0" Sioux City provisioning, wieners, & music
June 25, 2021 We departed from the Seattle airport with the usual crush of people in line for security. The only evidence of the Covid pandemic was the requirement to wear masks. Otherwise Sea-Tac was busy as ever.
We landed in Sioux City at about 5pm at their airport about the same size as Bellingham's. Sioux City is about 85,000 people - so a little smaller than Bellingham. The first thing of note while we waited for our Uber driver outside was the sharp and overwhelming smell of ... pig farm? Hmm.
Our Uber driver gave us great tips on local restaurants and entertainment. So we checked in to the Stony Creek Inn (funny, it had a northwest pine cone and tree decor) and went off to explore.
After a celebratory cocktail at the hotel bar, we went in search of a nearly free concert ($3 each) with Kelli Hyatt - a country band- which had been moved inside because of rain/storms and had no signs - we were lucky we found it!
And I'm not sure what the big beaver was embarrassed about, but it made me embarrassed too.
We ate at the recommended "Diving Elk" restaurant where lore has it that a creative businessman trained elk to walk up a ramp and dive into the Missouri River. Of course charging for the attraction. We skipped the elk for dinner.
Next day, Saturday 6/24 we picked up our bikes from Albrecht Cycles
and rode off to test ride the bikes and pick up provisions: food (pb, bread, jam, apples, gorp), campstove gas, rain slickers (after the rain storm yesterday and the weather outlook, we thought we should find something more water repellent)
We rode a beautiful trail out to a supermarket where we found the food and yellow ponchos! Plus... bonus Turkey Sticks.
Then back to Sioux City for lunch at Schweddy Weiners (but they were closed) and instead experienced Milwaukee Weiners - its an institution.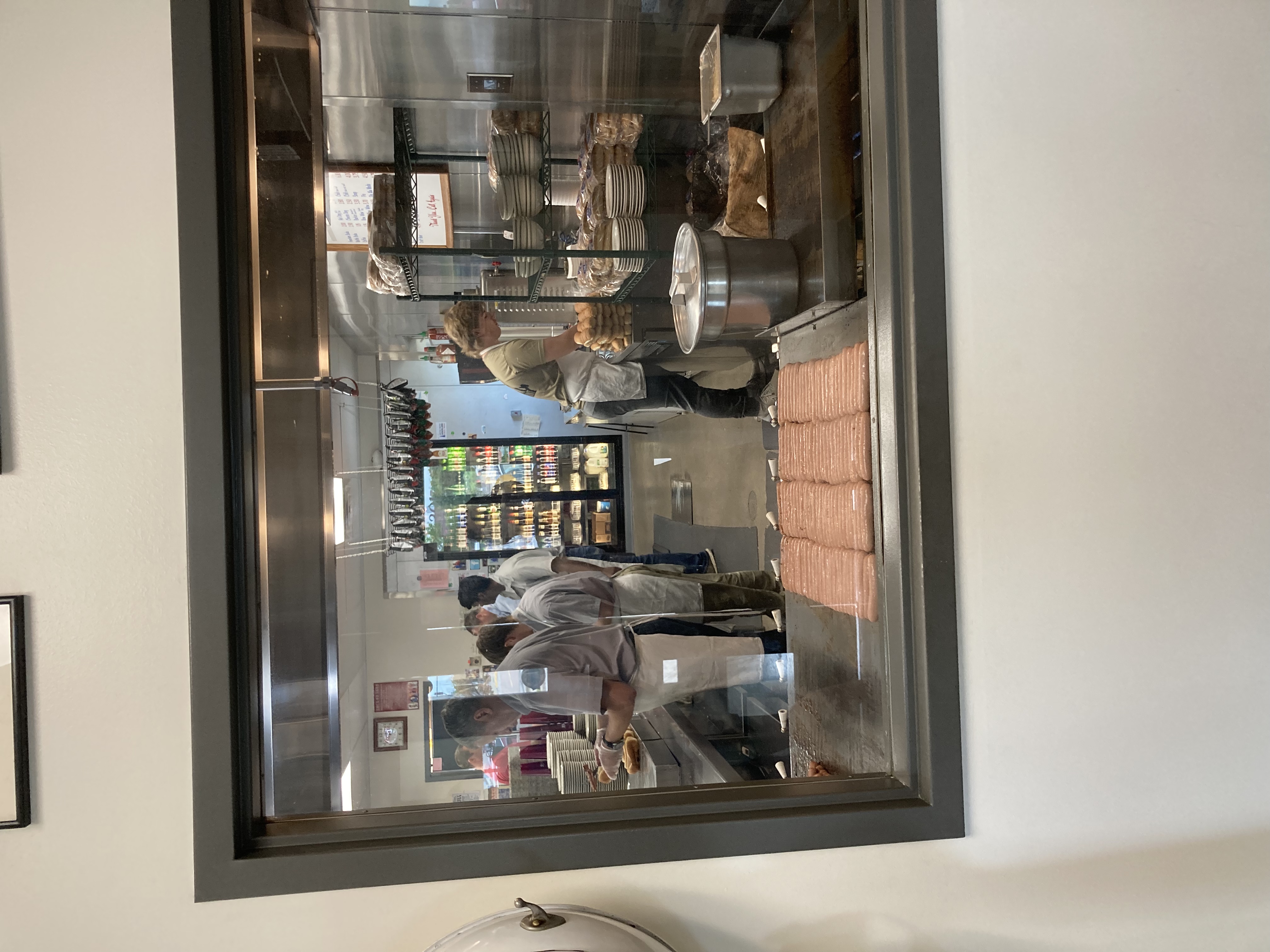 It started pouring rain so we decided to take a rest at the hotel, then forge on to the Sargent Floyd River Museum and the Lewis & Clark interpretive center.
Sargent Floyd was the only person who died (likely from a burst appendix) during Lewis & Clark's 2 year expedition to find the mouth of the Missouri River, a pass over the Rockies, and to follow the Columbia river to the pacific coast... and back.
After our museum tours, we had to duck into Nebraska (just across the Missouri), but first had a ceremonial dip of our tires in the Missouri River. The 2 fisherman who took our picture thought we were crazy and opted to fish for catfish out of the windows from the comfort of their truck (it was raining).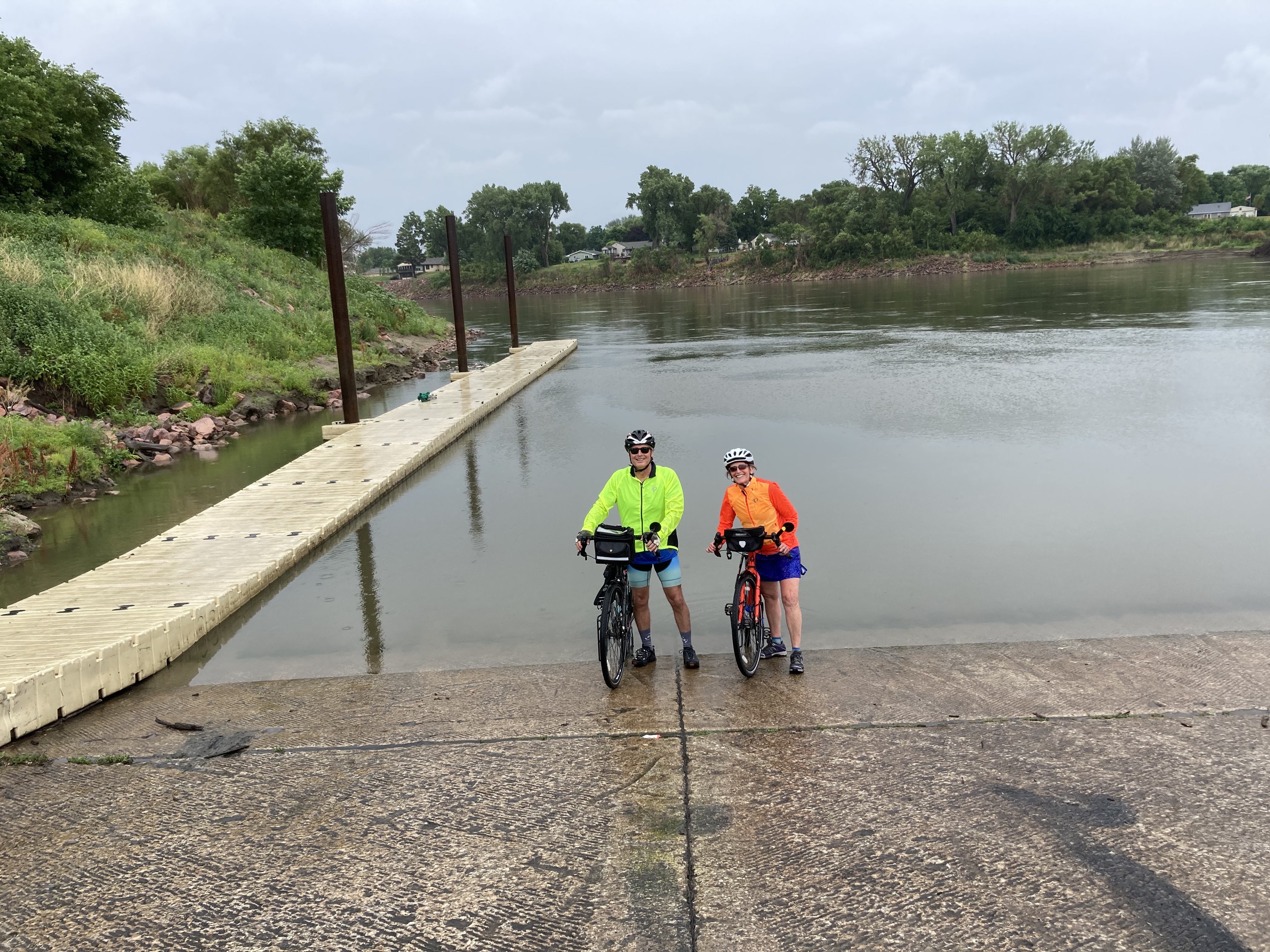 Mission accomplished, we found the camp stove fuel.
Back to Sioux City to have a terrific dinner at the SoHo before walking over to the Kenny Wayne Shepard concert at the Hard Rock Casino. Rock on!
Sioux City was a quiet town with spunk. Cool old buildings in the historic district, fun murals, great music!