C2C Leg#3 Day 4 Waubonsie State Park to Falls City - Gravel and Rolling Hills
6/30/21
Day 4, Waubonsie State Park (Iowa) to Falls City (Nebraska)
Miles: 56.2
Total Miles: 224.4
MYZONE MEPs: 830
We had a nice chat with our neighbor tenters who were driving to... Guemes Island (in the San Juans) and were considering a move to Bellingham. So if you meet Kari or Ellensberg, give them a big welcome!
70 degrees, breakfast of peaches and granola, a cup of coffee and we were off down the 2 mile hill with fog looming.
Our road still hugged the Loess Hills filled with trees on our left
and corn/soybeans on our right.
First scarecrow that we saw!
The quiet road was beautiful, the fog kept the temperature down, but everything feels goggy (gooey + soggy), especially our gloves.
Our first stop was in Hamburg for supplies and a quick snack.
6 mi after was a little corner of Missouri.
Then we crossed over a major highway to a gravel road with big chunky rocks that is very hard to ride a loaded bike on. Slowed us wayyy down.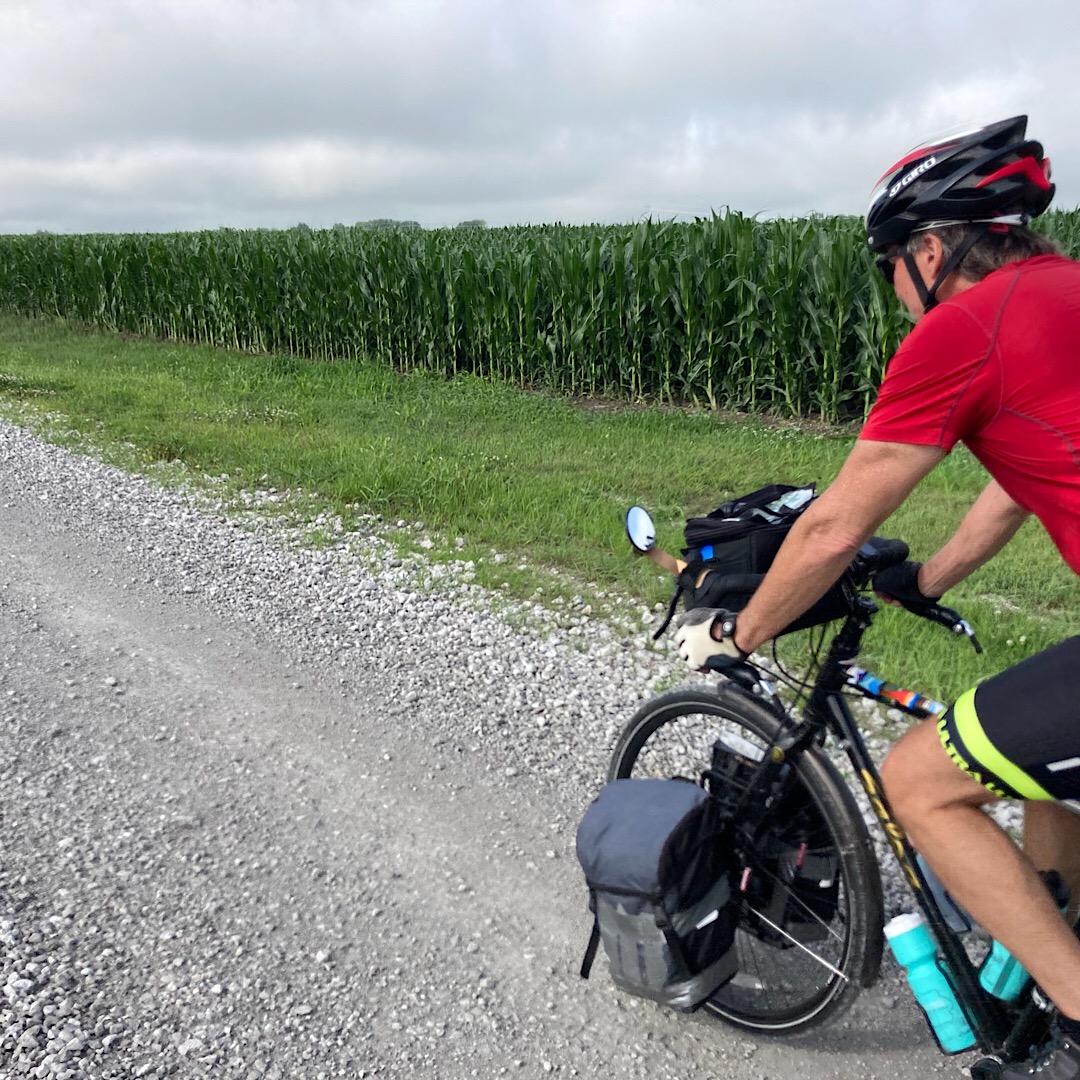 And the gravel went on for 5 MILES... that took an awful lot of balance, upper body work to control the bike, and mental tenacity.
Finally we hit pavement again. The names on our bike maps give us hope that there is a community there. But most times it is vacant buildings and deserted/boarded up houses. Here we are in Watson - not much here but this nice pavilion.
Our map said D street was closed, but we risked it anyway. Sure enough, part of the road was actually falling off...but plenty of room for us to bike.
This long -narrow-bridge over the Missouri River into Brownville, Nebraska was a little harrowing. We were lucky to have NO traffic pass us.
We treated ourselves to Lunch at the Lyceum restaurant (Big salad and chicken wrap).
At first I said "I like rolling hills". I was wrong.
That was the END of flat road, welcome to BIG rolling hills for almost 30 miles. 25mph downhill, 6-8 miles an hour uphill with skies threatening to rain (but missed us).
We drag ourselves into Falls City and call to ask about camping in the city park. It's $5? Put our tent anywhere on the grass? There are free showers? It's on Stanton Lake? Way to go Falls City!
We did NOT want to sit on our bikes again, so we walked into town (about 3 miles round trip) and passed by this 1881 home.
to the grocery store to buy granola and a can of peaches for breakfast and then to dinner at the "Farm Table" restaurant for delicious chicken.
On the way back, passed by a girls softball game that had the townsfolk out and cheering. The girls had some great chants "Itsy Bitsy Audrey <itsy bitsy Audrey> Drive one up the middle <drive one up the middle>
We ended the day watching some kids fish in the lake and settled in for a "sleep" in the city park.