C2C Leg#3 Day 23 Kentucky Dam Village to Piney Creek Camp: 3 Mechanicals & a beautiful ride
7/19/21
Day 23: Kentucky Dam Village Resort State Park to Piney Creek Campground (Tennessee!)
Miles: 59
Total Miles: 1050.7.... We crossed 1,000 miles!
MyZone MEPs: 1016
Since we decided not to ride to a grocery store yesterday, the other one on our route does not open until 8am. So knowing it will be a big mile day, we have bfast in the KDVRSP restaurant for our 4th (and final) meal there. Breakfast is their strong suit. Lunch and Dinner are more like what you used to get on a ferry (anything frozen or canned).
We head out across the bridge next to the Kentucky River Dam, and just after I took this picture....
MECHANICAL #1: I SHIFT AND BAMMMM - MY REAR SHIFTER CABLE SNAPPED.
This is a big deal on a bike. Immediately you are thrown into the smallest cog (hardest to pedal) on the rear gear set and we are on a highway with nowhere good to pull out to try to fix. So I slug it out to the tiny town of Grand Rivers where we make our planned stop at the grocery store.
Doug starts digging trough his tools and spares while I go do the necessary shopping. By the time I came out, he had threaded the one spare shifter cable we had and was starting to tune it up,
while chatting with a nice fella on vacation with his family who was wondering what we were up to. Fixed!
So glad I married a talented fix-it guy whose savvy enough to bring a spare shifter cable.
Next is our one-road route through the Land Between the Lakes National Recreation Area. This is one of our highlights of the trip!
When we looked at this route on the map, we had no idea if this would be like Yellowstone (bumper to bumper cars and no shoulder) or... like it blissfully was. Beautiful, light traffic, wide shoulder, undulating hills.
The Tennessee and Cumberland rivers flow close together and the land in between has been known as "Between the Rivers" since the 1830s or 1840s.n After the dams were built, approximately 800 families were removed from the area and the recreation area was originally managed by the Tennessee Valley Authority, changing hands to the US Forest service in the 1990s.
I named this the Pink Fairy Puff Tree
In the area, there is a bison and elk refuge (no, bicycles are not allowed), hunting, fishing, off road vehicle area, plenty of camping, and access to water for boating, visitor centers, planetarium, and museum. We stopped at at both visitor centers (north end, south end)
For some education (I knew there had to be feral hogs here!) and an early lunch.
T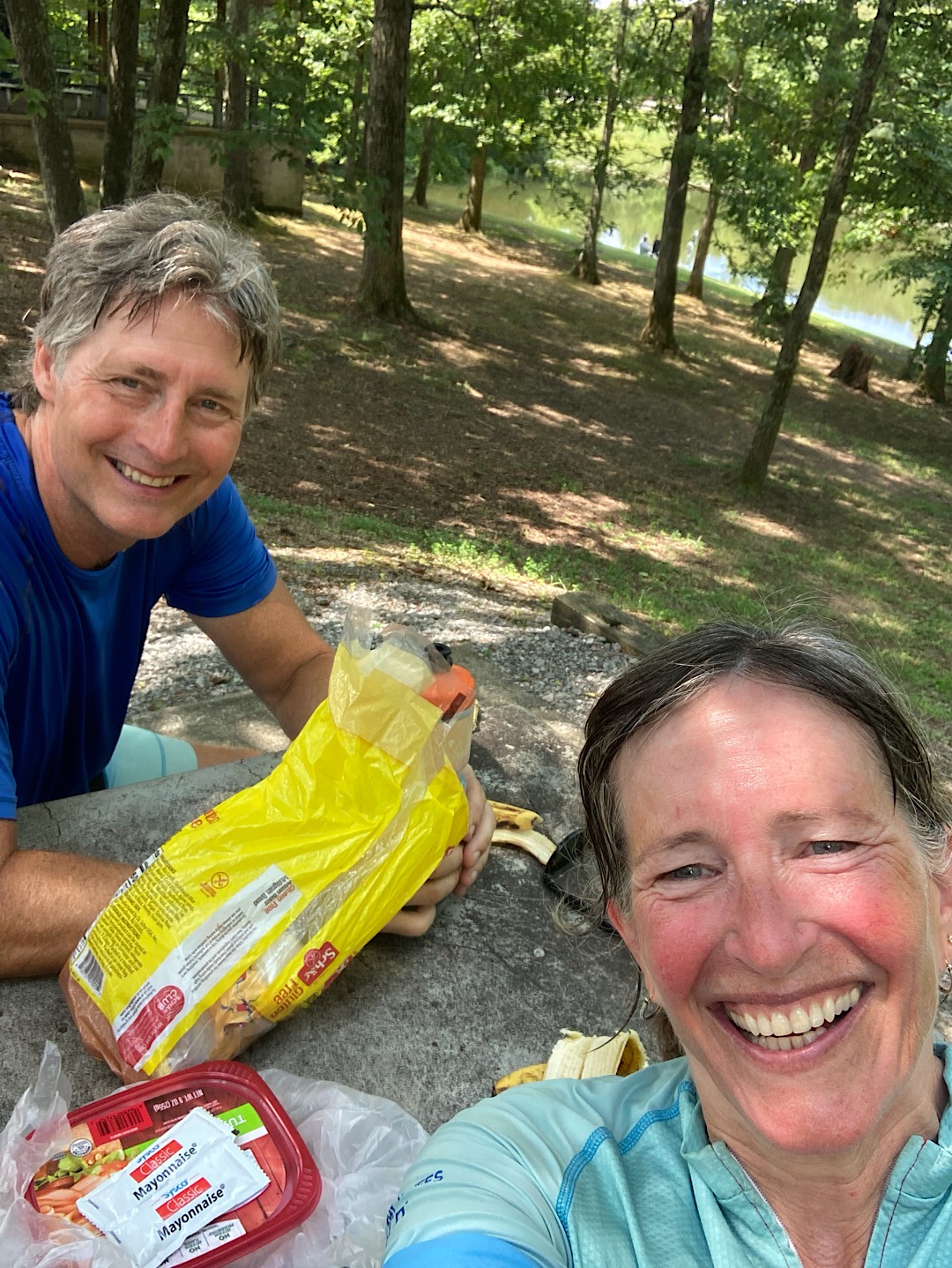 We rode from Kentucky into Tennessee, at last!
The bicycle riding was fantastic. It got hot high 80's in the afternoon but we had a bit of a breeze. None of the hills were too steep and it couldn't have been better.
The Homeplace is an historic 1830's home and farm complex with several houses, smokehouse, barns, and cribs (food storage), gardens, and animals. "Interpreters" are there dressed in the era to answer your questions about the homestead.
As we started, one of the interpreters asked if we'd like to see a copperhead.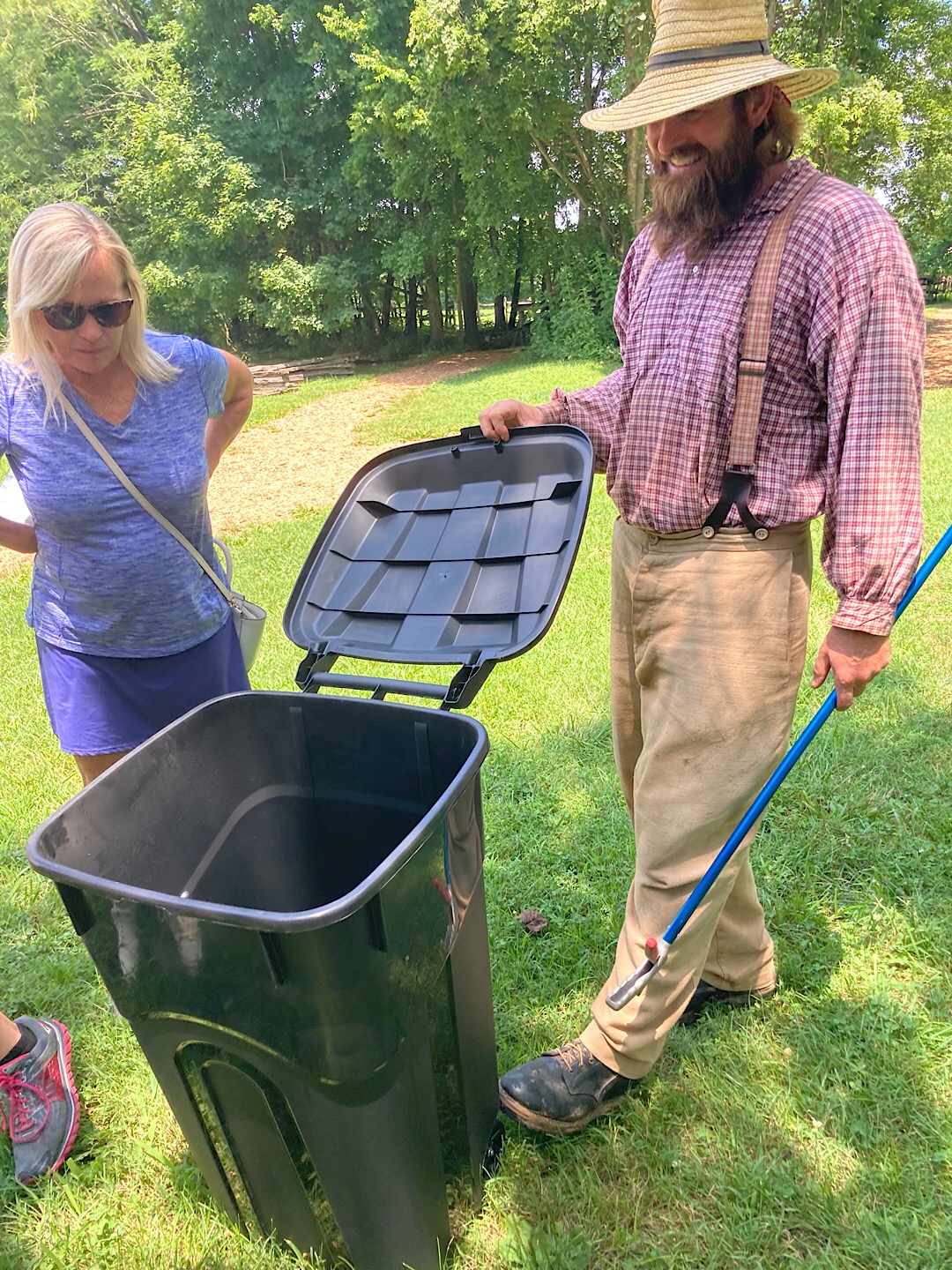 Oh dear....
At the main house, it had 2 rooms with a "dog trot" or open area between to help create air flow. A the kitchen room was added to the back. The logs are all hand cut (of course) and notched together instead of nailed.
In front of the tobacco field, the harvested tobacco was hung to dry in the shed.
We
We came across the Great Western Ironworks Furnace - operated between 1855-56. It closed because of a lack of ore and slave rebellion.
Back on the LBL beautiful road.
We stopped at the south end visitors center for a cold drink and to our surprise there was a group catching and tagging humming birds!
The feeders are up year around and come tagging time they put them in cages in order to temporarily catch and identify/tag the birds.
At the end of our beautiful ride through the LBL, we had to stop at the Piggly Wiggly store to get dinner supplies before going the last 10 miles to the campground.
LONG hills on a major road in the late afternoon heat made this exhausting.
Piney was another huge Campground and luckily not many people want the "no electricity" sites. It was just us and 1 other family, right on the lake.
MECHANICAL #2: THE GAS CANNISTER FOR THE STOVE FAILED.
It is full of gas, but no pressure. How are we going to cook our pork chop and mashed potatoe dinner? Doug visits other campers to see if they can help, then has an idea (I'm just glad the gas can didn't blow up when he poked at it) that the valve was stuck. Got enough flame to cook the pork chops, then our neighbor offered their stove to heat water for the potatoes. We are saved.
Our camp spot is beautiful and we are enjoying the sunset through our tent.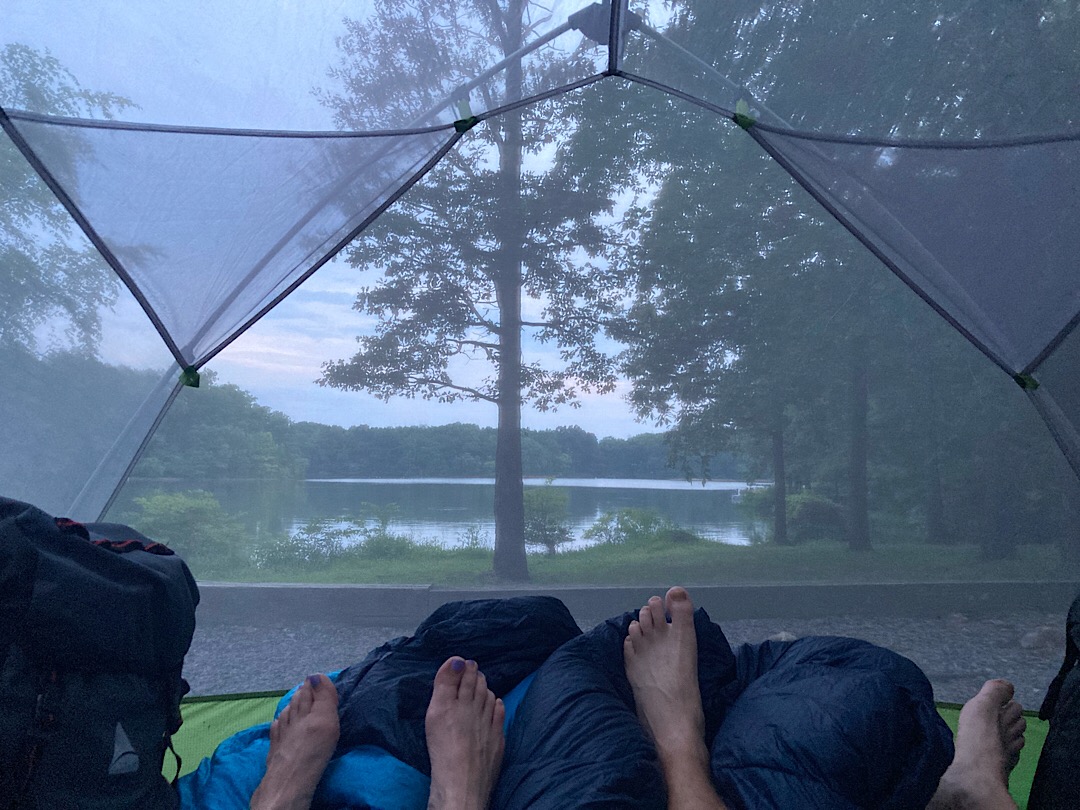 But WAIT....
MECHANICAL #3: I WILL HAVE A FLAT TIRE IN THE MORNING FROM A WIRE IN MY TIRE PICKED UP TODAY. ..... You'll hear about that tomorrow.