C2C Leg#3 Day 11: Arrow Rock to Hartsburg - From excitement to disappointment to satisfaction
7/7/21
Day 11: Arrow Rock to Hartsburg
Miles: 61
Total Miles: 548.2
MyZone MEPs: 928
We still got up at 4:30am, even with last night's raccoon disruption. With headlamps on, we broke camp, made coffee, ate breakfast, said hello to the little frog who hopped onto my brake/shifter...
and hit the road just as the sun was coming up.
Exciting day today - we get to ride the "Katy Trail" - the longest continuous hiking and biking trail in the country on a converted railroad route from Clinton to Machens - a total of 264 miles. We are riding the portion from Boonsville to Dutton - about 120 miles.
But first, we left Arrow Rock for about 20 miles to Boonville.
The rising sun over the open expanse was beautiful and the road peaceful.
In Boonville, we had to make the trek to the grocery then back to the visitor center/museum to make sure we knew how to get going on the Katy Trail.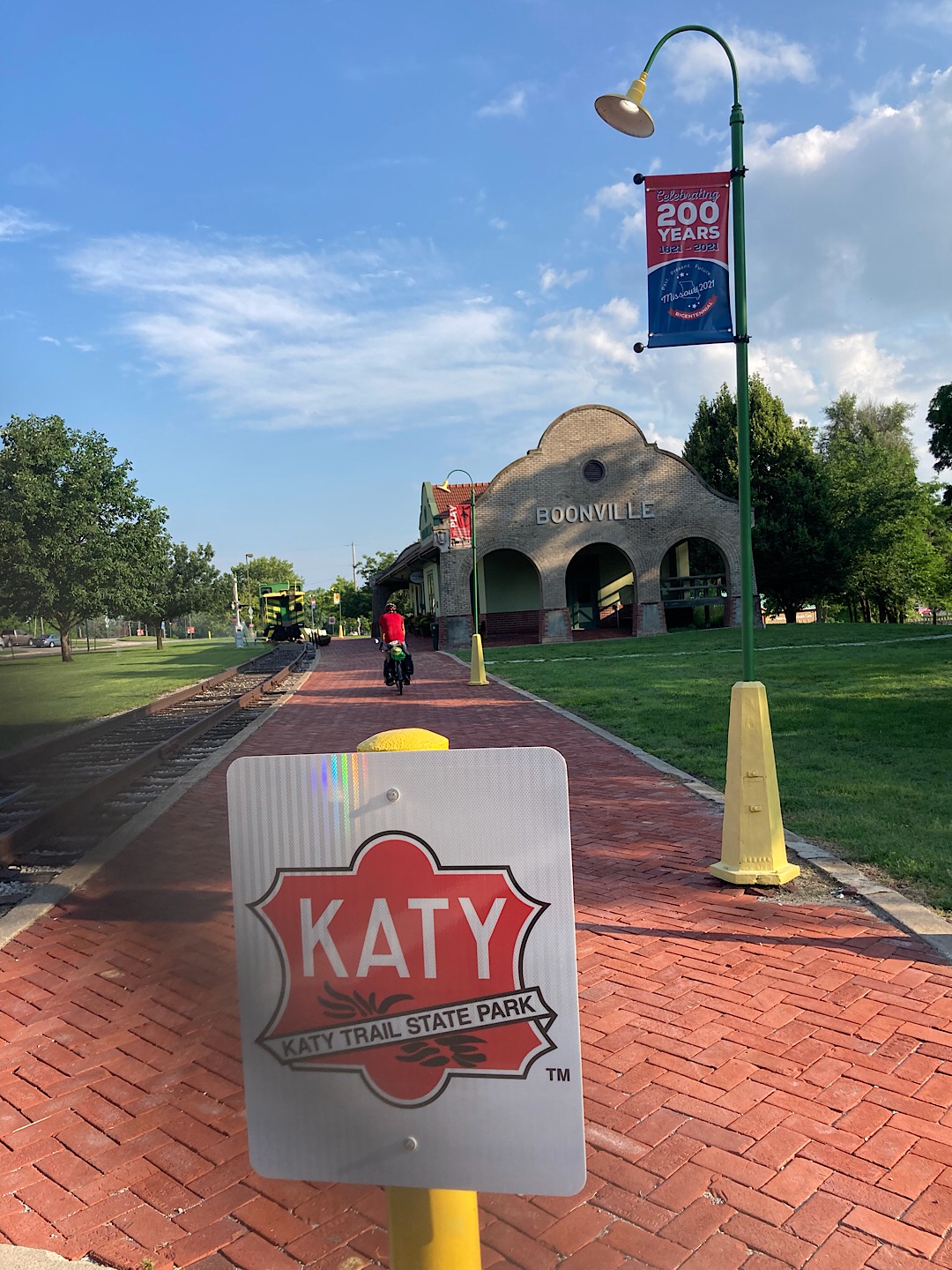 Katy Trail - we are so excited to ride this rails to trails section of our route. It starts out like we imagined... wide packed gravel route away from roads, cars, traffic, dogs...
Then... the next 13 miles turned into a nightmare. We had not seen the reports about how washed out, rough, and un rideable the Katy Trail was between Boonville and ??? How far?
It took us twice as long as we had thought to go just the few miles and we had 30 more...
So in Boonville we had lunch and looked all of our route options (not many) to go back to Boonville or take side roads Waaaay out of the way, or tough it out and ride the Katy trail. OR (I was bucking for this one) see if we could hire someone to drive us to Jefferson City.
Much of what we rode had swampy mucky muddy forest where it had been flooded. There were mudslides, ruts, chunks of trail missing, and bone jarring washboard bumps.
We decided on the Katy Trail - and guess what? We were through the worst of the trail damage and the riding was OK.
We rode through mosquito infested, muddy, swampy forests. No stopping here...
We could go about 12 mph - and have to slow/Walk around the rough spots. The problem was that the rough spots were so hard to see because of the dappled lighting through the trees. We'd hit mega washboard ruts and it would almost throw us off our bikes.
We could glimpse views of the Big Mo (Missouri River)
Why does the turtle cross the trail?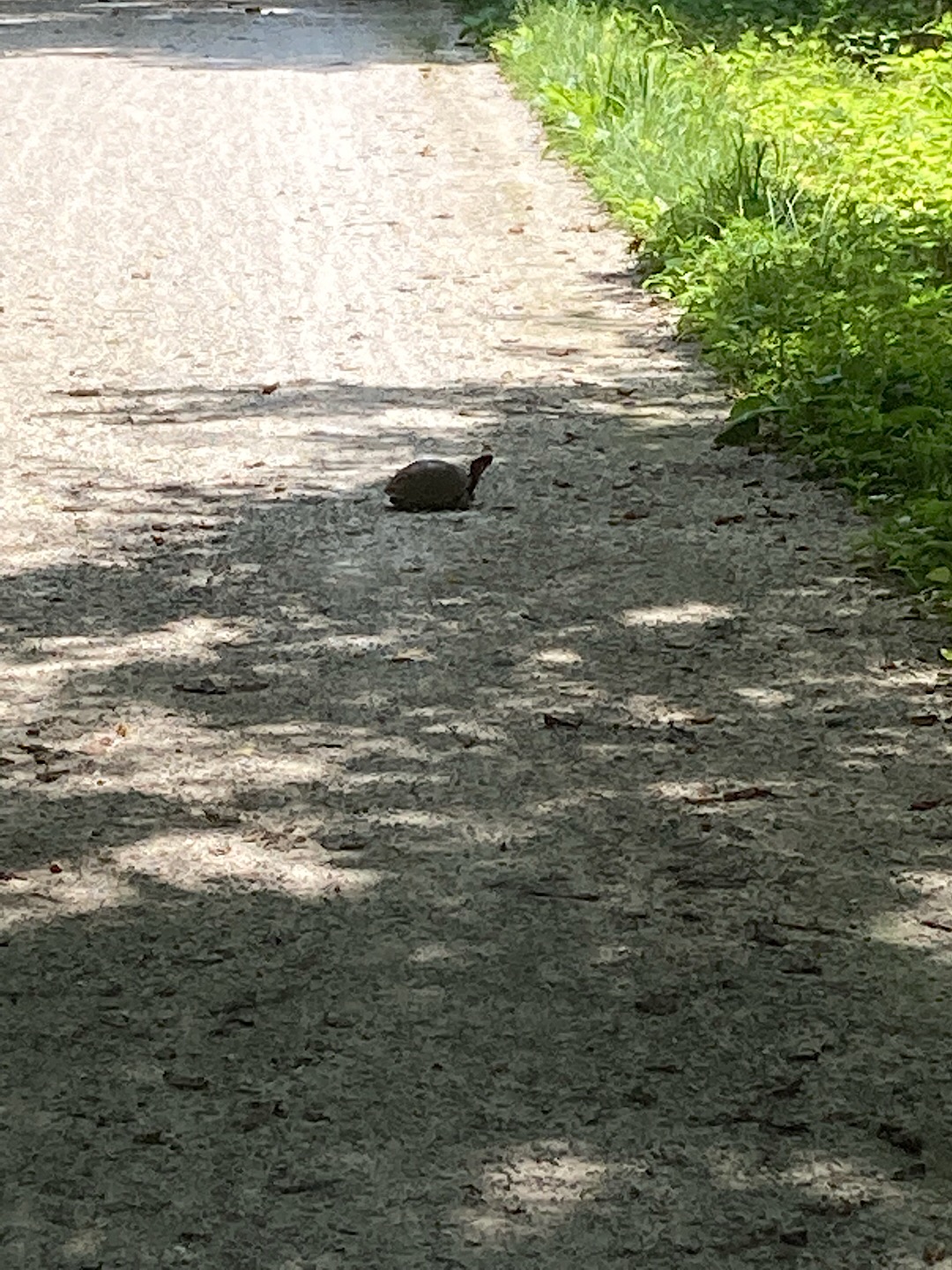 And then there is Boathenge...
We finally arrive in Hartsburg - but quickly see that the camping in the "city park" have no showers. We are tired, hot, and don't really want to ride 15 more miles to Jeff City.
We plea with Globe Hotel B&B who weren't really ready for guests, but Leah and Mark say yes to taking us in. They were great hosts with a home that was the original hotel built in the 1890s for the train stop in Hartsburg. It is a lovingly cared for home with 8 rooms, a game/sitting parlor (where we had to play a game of cribbage) and dining area. We cooked our dinner in their backyard ad they Insisted on washing our dinner dishes and our water bottles, and putting them in the freezer overnight. Comfy bed, best night sleep ever.
Oh - and remember the raccoons from camping last night? I'm pretty sure they stole my green socks. They are nowhere to be found.